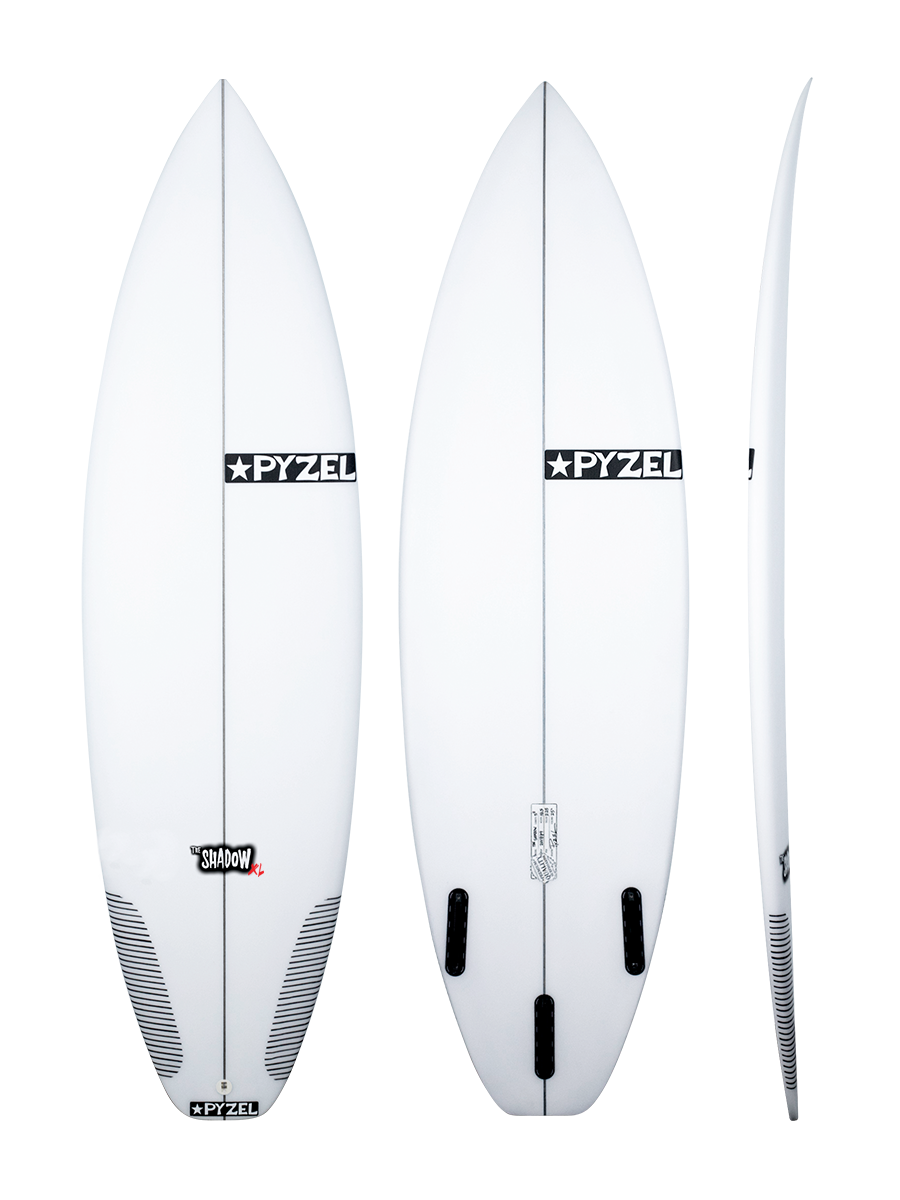 SHADOW XL
The Shadow XL is our larger dims/volume version of the newest addition to the Ghost family, built for surfers looking for the performance of a traditional shortboard with a more modern outline in larger dimensions.
The Shadow was awarded SIMA Shortboard of the Year for 2019.
Already a favorite of John John Florence, Jack Freestone and the rest of our team, itÂ's the board that lets you surf how you want in a wide range of wave conditions and size.
Knowing that the Phantom is a great board for many types of conditions, Jon decided to start with there and redesign it as a more refined, high performance board, while still keeping the added flow and glide that defines the Phantom.
The Shadow is designed to give all surfers the advantages of a wider, forward outlined type of board, but in a sleek, High Performance package.
✪ Modern foil/outline brings improved stability, paddle power, easy speed/flow in weaker waves.
✪ Rocker and bottom contours combine to generate speed and allow tight, powerful turning in all conditions.
✪ Great for all types of waves from beach breaks to points, reefs and even slabs.
✪ Will help Intermediate surfers elevate their performance levels, while also bringing out the best in more advanced surfers.
The Shadow features a high performance outline, the wide point at center not behind as is typical of most other HPSBs. We pulled in the nose by almost a ½ inch and added rocker through the last 12'' in the nose to keep it freed up through critical turns.
It has a gentle hip for added sensitivity and looseness, and the squash tail is pulled in a touch to tighten the turning radius and improve vertical surfing capability.
Tail rocker and bottom concave remain similar to the Phantom, already proven to work well in everyday conditions around the world.
The thickness flow sets the Shadow apart from other HPSBs, keeping the volume more forward of center but not overly exaggerated. Added foam under the chest area helps add paddle power and gives extra float under your front foot in slower sections, meaning easy speed and flow.
Ride the Shadow your height to an inch over, in your favorite high performance dimensions.
TAIL SHAPES:
LEVEL:
Beginner,
Intermediate,
Advanced,
Competition
STANDARD / STOCK MEASURES
SIZE
WIDTH
THICKNESS
5'6"
18 5/8"
2 5/16"
order
5'7"
18 3/4"
2 3/8"
order
5'8"
18 7/8"
2 3/8"
order
5'9"
19"
2 7/16"
order
5'10"
19 1/4"
2 1/2"
order
5'11"
19 3/8"
2 9/16"
order
6'0"
19 1/2"
2 5/8"
buy now
6'1"
19 3/4"
2 3/4"
order
6'2"
20"
2 7/8"
order
6'4"
20 1/2"
3"
order
6'6"
20 3/4"
3 1/16"
order
6'8"
21"
3 1/8"
order
Base prices for white boards up to 6'3'', with 3 FCS or Futures plugs, all extras charged separately