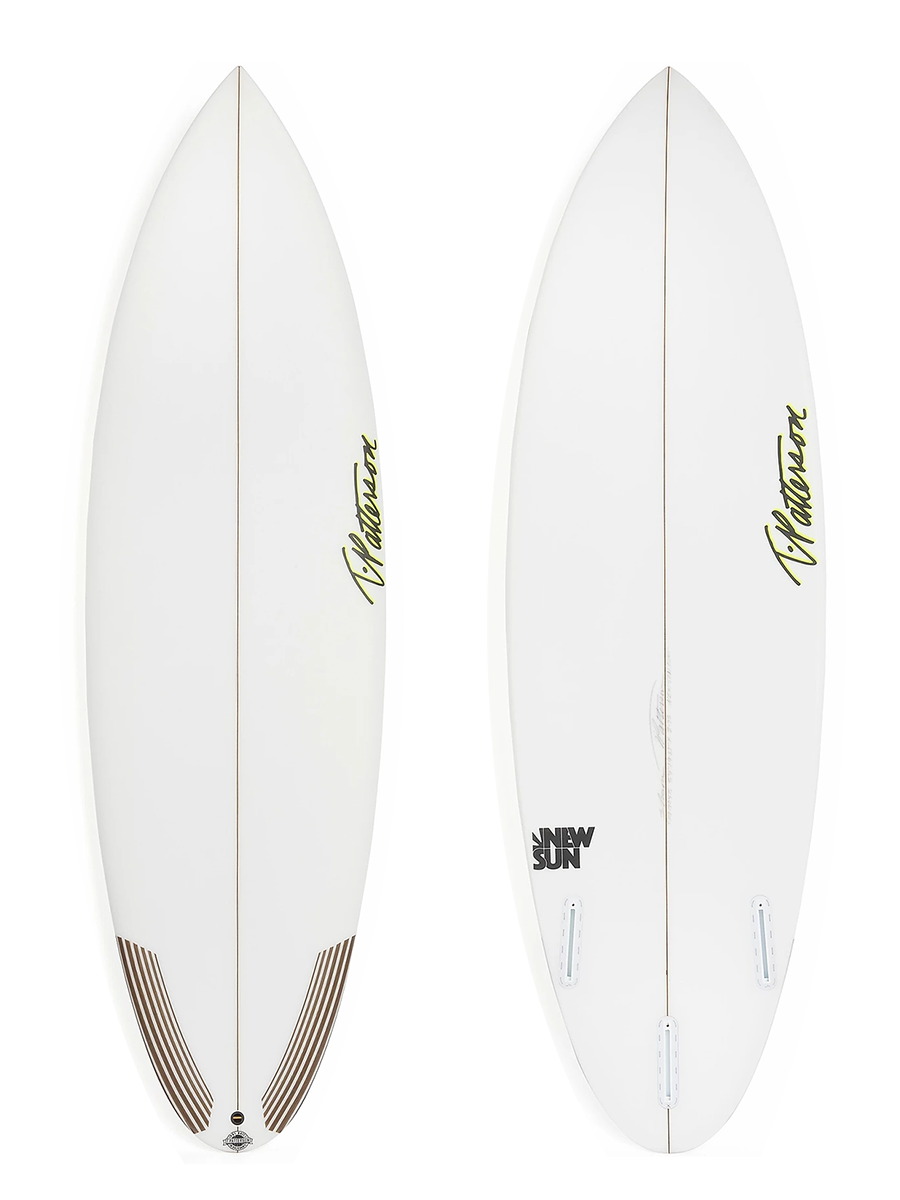 NEW SUN
A new version of the Rising Sun.
Has all the same good stuff going on as it did before, we just pulled in the tail block. The new outline of this board really frees up your maneuverability in the smaller tighter sections of the wave, especially if your surfing smaller beach break style waves. The original Rising Sun works very well in the flatter mushier waves and once you get into that smaller surf thats a little faster and not as slow you start to want something that can pivot a little faster and snap quicker and this was the answer to that. Can be ridden with different fin set ups for different rides. Great all around board for just about any level of surfer. Very user friendly yet still very progressive.
Ride as a round tail or a squash tail.
TAIL SHAPES:
WAVE:
All around, Small / Medium, Small, weak, summer
LEVEL:
Beginner,
Beginner / Intermediate,
Intermediate,
Advanced
STANDARD / STOCK MEASURES
SIZE
WIDTH
THICKNESS
5'4"
19"
2 1/8"
order
5'5"
19 1/8"
2 3/16"
order
5'6"
19 1/4"
2 3/16"
order
5'7"
19 3/8"
2 1/4"
order
5'8"
19 1/2"
2 1/4"
order
5'9"
19 5/8"
2 5/16"
order
5'10"
19 3/4"
2 3/8"
order
6'0"
20"
2 7/16"
order
6'1"
20 3/16"
2 1/2"
order
6'2"
20 1/4"
2 1/2"
order
6'3"
20 3/8"
2 9/16"
order
6'4"
20 1/2"
2 9/16"
order
6'5"
20 5/8"
2 5/8"
order
6'6"
20 3/4"
2 11/16"
order
6'7"
20 7/8"
2 11/16"
order
6'8"
21"
2 3/4"
order
Base prices for white boards up to 6'3'', with 3 FCS or Futures plugs, all extras charged separately