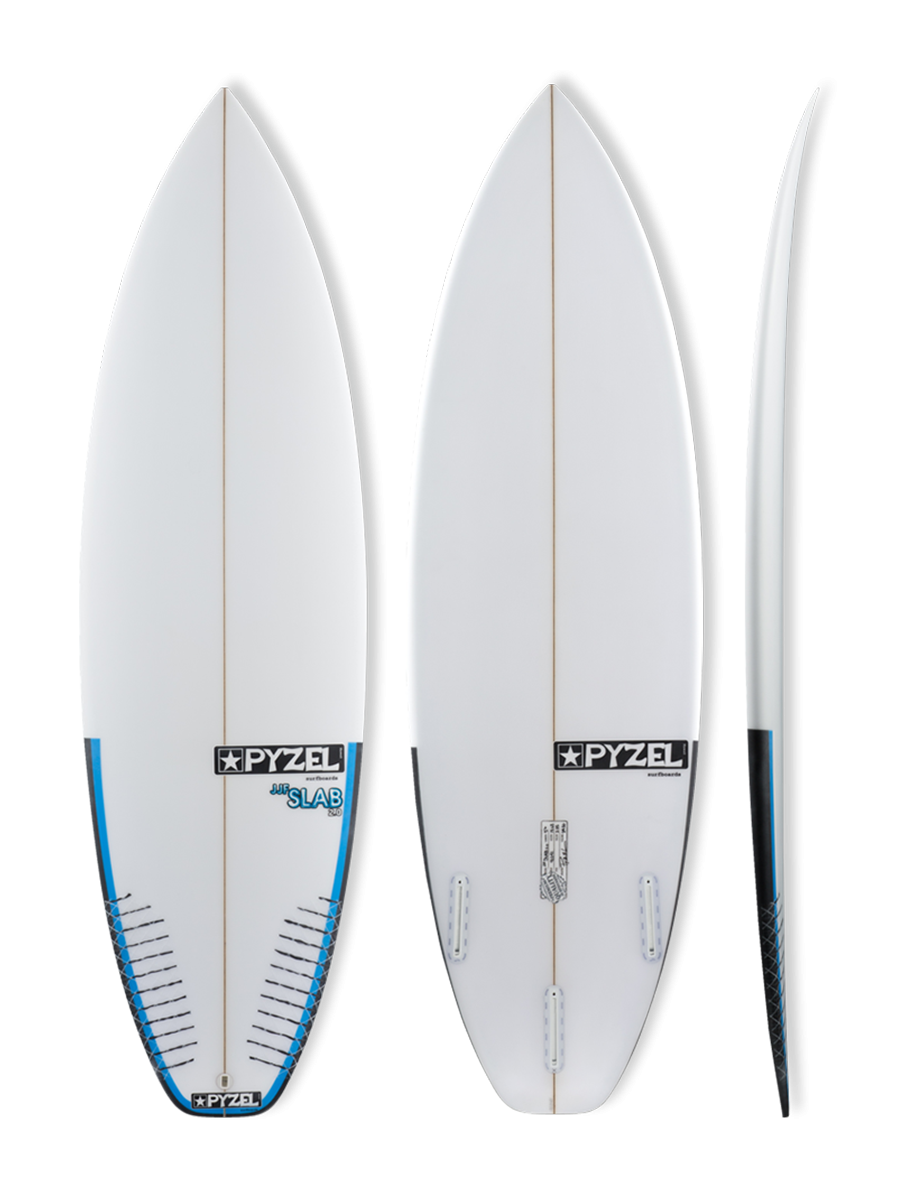 JJF SLAB 2.0
The JJF Slab 2.0 is a new, updated version of our Slab. John John has been riding this design for the past year, and even rode one in the 2015 Quiksilver Pro at Snapper, scoring a 9.23 in weak, slow conditions. After hearing his feedback about wanting something that would work better in those kinds of waves we took the Slab and made some significant changes to the bottom contours and rocker. We added a deeper, full concave that starts in the nose and blends into deep double concave through the back 1/3 of the board. We also dropped the tail rocker by a full 1/4 inch and made slight adjustments to the the nose rocker to better suit the forward concave.
The outline is 1/4'' wider in the nose, and just under 1/8' wider through the tail.
All these changes have created a board that has more lift and drive than the original Slab, which allows you to get more speed and flow in smaller, weaker waves.
With a good amount of volume distributed through the whole length of the board you will want to go 1 to 3 inches shorter, 1/4' to 1/2' wider, and about the same thickness as your good wave shortboard.
TAIL SHAPES:
LEVEL:
Beginner,
Beginner / Intermediate,
Intermediate,
Advanced,
Competition
STANDARD / STOCK MEASURES
SIZE
WIDTH
THICKNESS
5'4"
18 3/8"
2 1/8"
order
5'5"
18 1/2"
2 3/16"
order
5'6"
18 5/8"
2 1/4"
order
5'8"
18 3/4"
2 5/16"
order
5'9"
18 7/8"
2 3/8"
order
5'10"
19 1/4"
2 3/8"
order
5'11"
19 3/8"
2 7/16"
order
6'0"
19 3/4"
2 1/2"
order
6'2"
20 1/4"
2 5/8"
order
6'4"
20 3/4"
2 3/4"
order
6'6"
21 1/4"
3"
order
Base prices for white boards up to 6'3'', with 3 FCS or Futures plugs, all extras charged separately