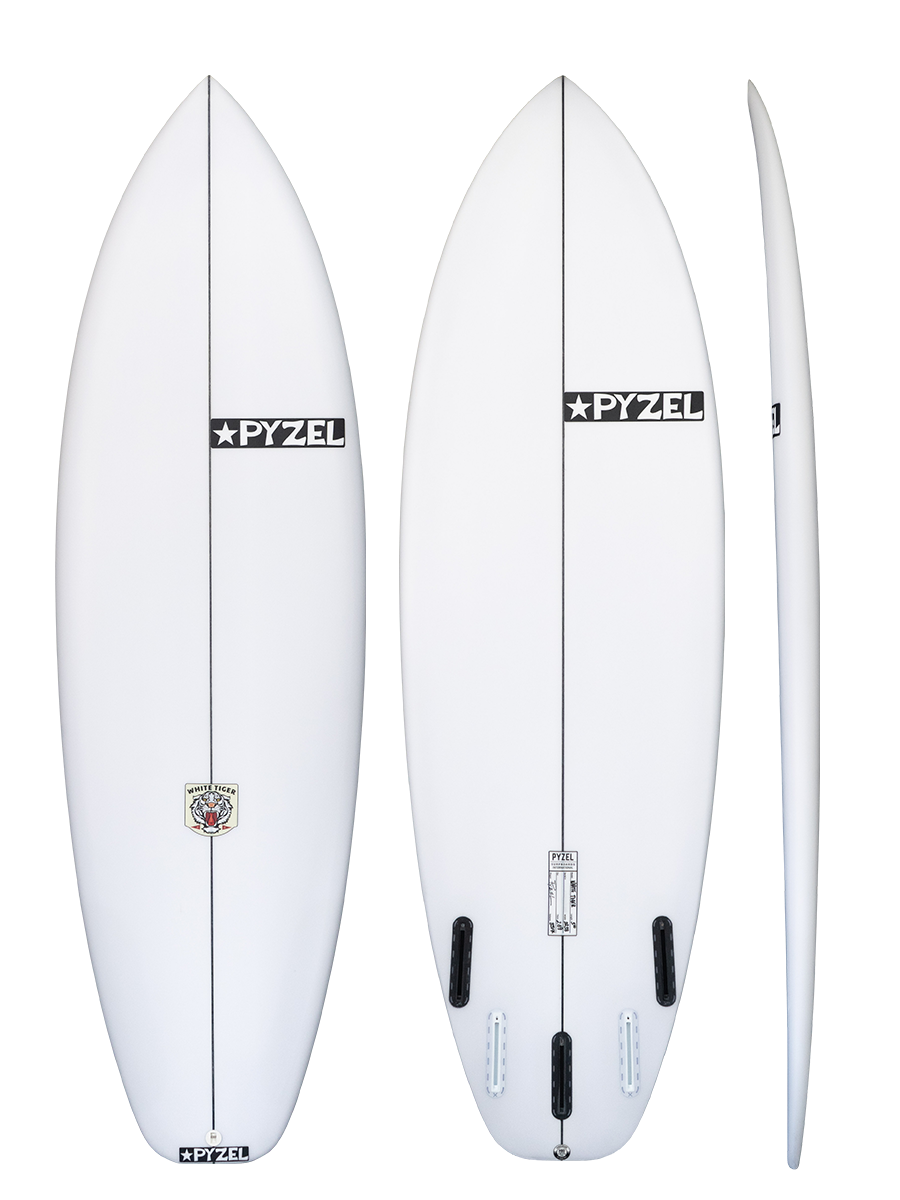 WHITE TIGER
The White Tiger is the latest offering in our Funformance category - a fun, stubby little board designed for average/below average waves. It gets up and goes easily, flies through the weakest sections, but still lets you smash the lip and boost airs along the way.
The very first one was a side project board for John John Florence, who rarely rides "fun" boards, just sticks to pure performance. It sat in his garage for maybe a year, and in the meantime I made a few for his little brother Ivan. It was the perfect design to fit Ivan's surf/skate style and soon he was telling us how much he loved it and sending us clips of him doing big carves and boosting airs on it. Finally JJF pulled his 5'6'' out and was immediately having a blast on it too. Now it's one of John's favorite boards to ride whenever he has some time off from the tour and just wants to play around with something different.
HereÂ's the basic info on what makes the White Tiger go-
It has a clean but stubby outline, with a very full nose and wide squash tail. There is no hip and the wide point is 1 ½'' forward of the center. The tail measurement is just slightly wider than the nose.
The thickness is also concentrated forward, with a beak-nose design that helps keep the volume up under the chest area for better paddle power.
The bottom rocker is even and flowing, flat throughout the board and designed to get up on top of the water quickly, which lets you build and carry speed with ease.
The bottom has a single/double concave running through the front 2/3s of the board which transitions into a pronounced vee/double concave in the last 1/3 through the fins and off the end of the tail. The single/double concave give the board lots of lift (think speed) while helping to let the wider design transition from rail to rail with ease. The vee running off the tail also helps the board tip over onto the rail at speed and lets you turn it up into the lip with ease.
It has a relatively flat deck that blends out into tapered rails. This keeps a lot of volume in the board while still keeping it sensitive through turns and easy to pump down the line without feeling too "boaty" for its volume.
We recommend you ride the White Tiger anywhere from 2-5 inches shorter than your regular shortboard depending on your surfing ability, and ½ to 1 inch wider and add a bit more volume than you normally ride. (JJF and Ivan both ride 5'6' White Tigers and their normal boards are 6'0'')
TAIL SHAPES:
Warning
: count(): Parameter must be an array or an object that implements Countable in
/var/www/html/www.polensurfboards.com/views/surfboards/details.phtml
on line
319
not defined
RAILS: Standard Rail
STANDARD / STOCK MEASURES
SIZE
WIDTH
THICKNESS
5'0"
18 3/4"
2 1/4"
order
5'2"
19"
2 5/16"
order
5'3"
19 1/8"
2 3/8"
buy now
5'4"
19 1/4"
2 7/16"
order
5'5"
19 3/8"
2 1/2"
order
5'6"
19 1/2"
2 1/2"
buy now
5'7"
19 3/4"
2 9/16"
order
5'8"
20"
2 5/8"
order
5'10"
20 3/8"
2 11/16"
order
5'11"
20 1/2"
2 3/4"
order
6'0"
20 3/4"
2 3/4"
buy now
6'2"
21"
2 13/16"
order
6'4"
21 1/2"
2 7/8"
order
6'6"
21 3/4"
3"
order
6'8"
22"
3 1/16"
order
Base prices for white boards up to 6'3'', with 3 FCS or Futures plugs, all extras charged separately