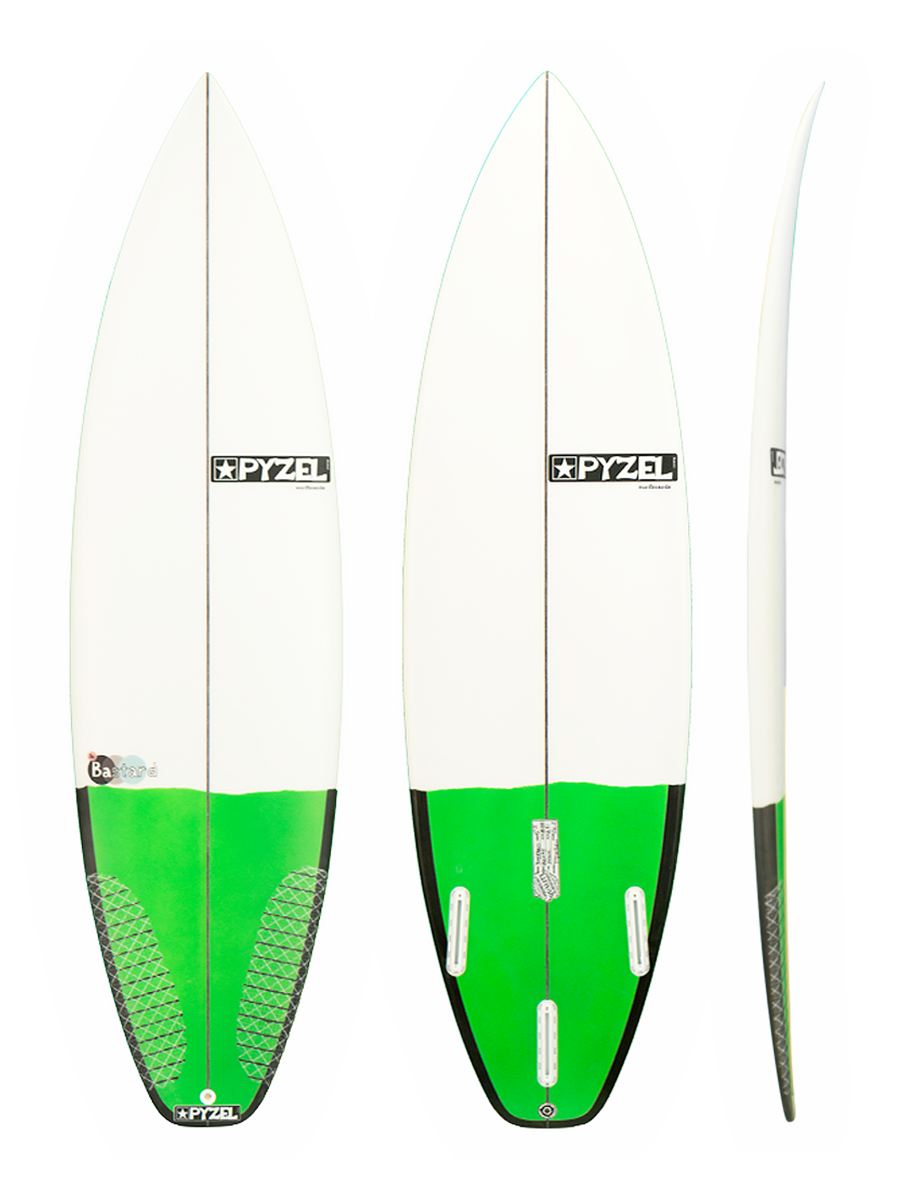 THE BASTARD
Our most popular shorty and the board that JJF rides in most conditions and comps ( he finished 2nd at Trestles1st in France and 1st at Volcom Pipe 2015, all riding his Bastard). This is obviously a very versatile board.
We took some design aspects of our two shortboards, the Flash and Pinky, and blended them to create the Bastard.
It has a touch more rocker than the Flash for a snappier feel, but still keeps itÂ's drive and speed through flatter sections. Single concave throughout adds to the speed and the subtle hip in the tail makes it easy to redirect. The tail is a touch more pulled in, giving bite and drive through turns, and we flattened out the deck to re-position the volume for a lively feel.
This board works great for big carves in powerful waves, and still feels great in weaker surf. A great board for everyday sessions in all kinds of waves.
TAIL SHAPES:
LEVEL:
Intermediate,
Advanced,
Competition
STANDARD / STOCK MEASURES
SIZE
WIDTH
THICKNESS
5'6"
18 1/4"
2 1/8"
order
5'7"
18 3/8"
2 1/8"
order
5'8"
18 1/2"
2 3/16"
order
5'9"
18 5/8"
2 1/4"
order
5'10"
18 3/4"
2 5/16"
order
5'11"
18 7/8"
2 3/8"
order
6'0"
19"
2 7/16"
order
6'1"
19 1/4"
2 1/2"
order
6'2"
19 3/8"
2 9/16"
order
6'3"
19 5/8"
2 5/8"
order
6'4"
19 3/4"
2 11/16"
order
6'6"
20"
2 3/4"
order
Base prices for white boards up to 6'3'', with 3 FCS or Futures plugs, all extras charged separately