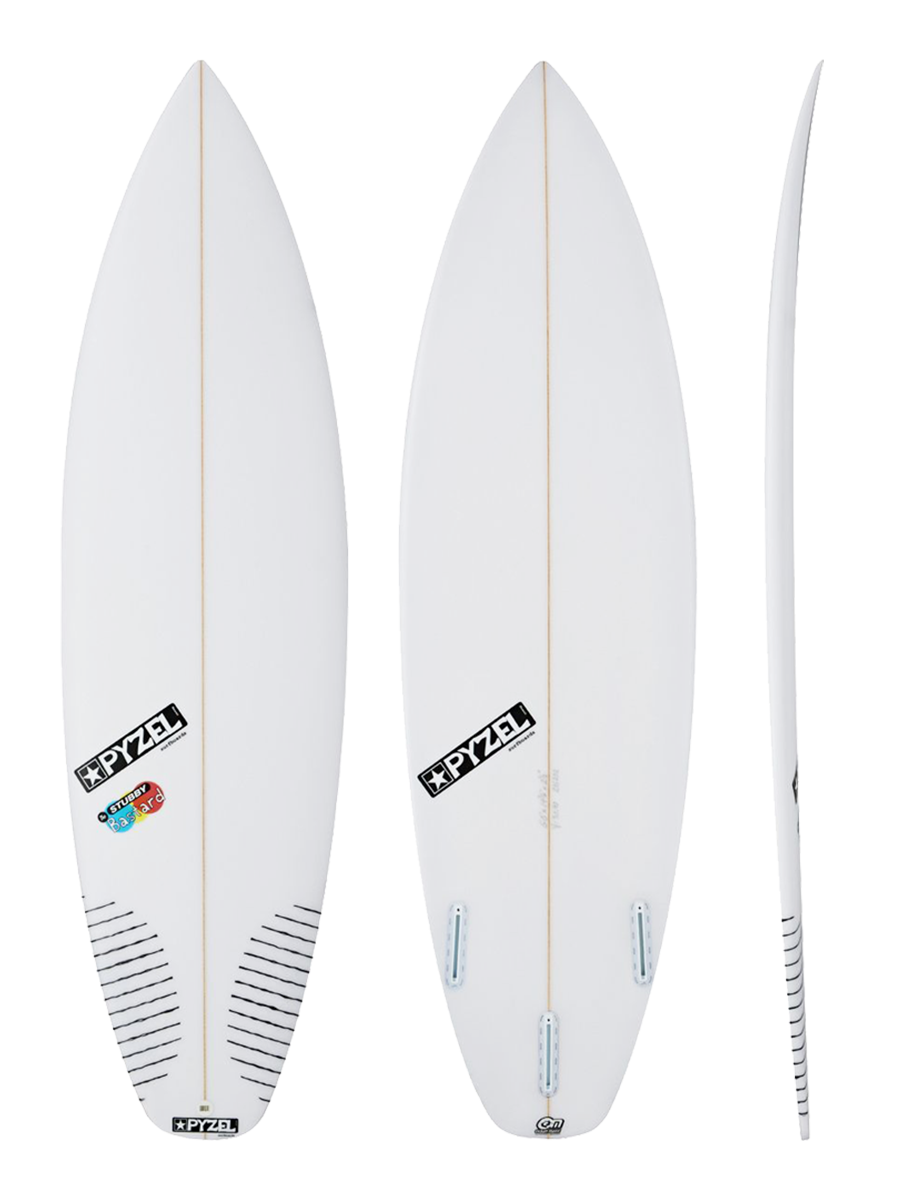 THE STUBBY BASTARD
The Stubby Bastard provides you with the best of both worlds, an ultra high-performance shortboard and a stubby step-down that is a great addition to any quiver.
WeÂ've taken JJFÂ's favorite high-performance shortboard, The Bastard, and squashed it down into a fun, fast, super skatey, all-wave shred sled. We chopped 3 inches off the nose, which pushed the wide point forward, added a little thickness up front and also lowered the entry rocker. Additionally, we filled in the rail to add a little more overall volume and forgiveness. All of the bottom contours (single concave throughout) remain the same.
What you end up with is a fast, loose and responsive board that can fit into tight, curvy little waves, extremely well, but will still hold its speed and flow in weaker, mushy surf.
Ride this board 2-3 inches shorter, ¼ to ½ inch wider, and same thickness or 1/16 more (around the same volume or a bit more) than your regular Bastard shortboard for maximum performance and fun.
TAIL SHAPES:
WAVE:
All around, Beach break , Reef, Points, Big, powerfull, hollow, Good quality, strong, fast, Small / Medium, Small, weak, summer
LEVEL:
Beginner,
Beginner / Intermediate,
Intermediate,
Advanced,
Competition
STANDARD / STOCK MEASURES
SIZE
WIDTH
THICKNESS
5'5"
18 1/2"
2 3/16"
order
5'6"
18 5/8"
2 1/4"
order
5'7"
18 3/4"
2 1/4"
order
5'8"
18 7/8"
2 5/16"
order
5'9"
19"
2 3/8"
order
5'10"
19 1/4"
2 7/16"
order
5'11"
19 1/2"
2 7/16"
order
6'0"
19 5/8"
2 1/2"
order
6'1"
19 7/8"
2 9/16"
order
6'2"
20"
2 5/8"
order
6'4"
20 1/2"
2 3/4"
order
Base prices for white boards up to 6'3'', with 3 FCS or Futures plugs, all extras charged separately